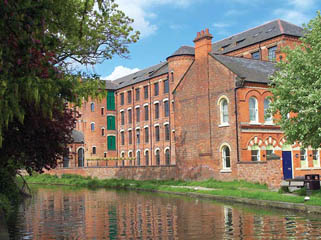 Nottingham Flats
Example: 1 Bed Flat, Fully Furnished - £500/ Month
As in most cities, flats in Nottingham come in a variety of styles and locations but there are very few developments of flats in Nottingham to let which match the quality and positioning of Springfield Mill. The impressive features of this Nottingham flat include a Conran designed kitchen incorporating dishwasher and washer dryer as well as all of the standard appliances. Terence Conran is one of the world's leading interior designers and the fact that he has applied his creative ability to the design of this Nottingham flat really makes it stand out from other Nottingham flats for rent.
Other striking features of this Nottingham flat to let includes high ceilings, full height double glazed windows which have traditional cast iron frames, quality real wood flooring and exposed brickwork. All of this traditional sheik is seamlessly blended with contemporary styling in one of the best fully furnished Nottingham flats to let available.






This development of flats in Nottingham was completed in 2006 by City Lofts and totals 105 individual flats ranging from studios to top floor duplex apartments. But of these 105 Nottingham flats there are very few of them which are available for rent and the stunning canal views offered by this Nottingham flat for rent makes it one of the most desirable in the entire building.






Not only is this flat in Nottingham for rent one of the best quality flats on the market, it also boasts secure on site parking and an intercom system which allows the occupants to talk to visitors outside the building and open the gate and door remotely.
Example: 1 Bed Flat, Fully Furnished - £500/ Month
Again, unlike other rental flats in Nottingham, this amazing 19th century former lace mill offers secure parking which can only be accessed by key fob holders which gives you a an extra sense of reassurance. More details about Springfield Mill are available on the home page of this website or please do not hesitate to contact me via the form below.